Originally posted on New Drug Approvals: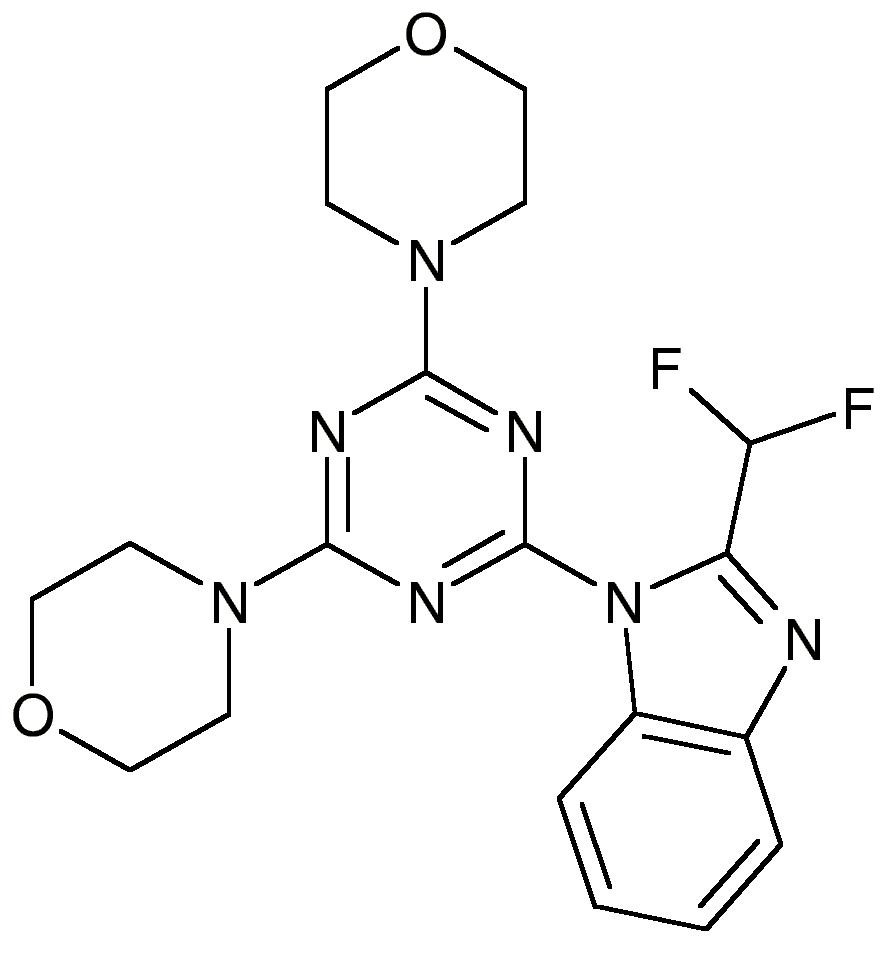 4-[4-[2-(difluoromethyl)benzimidazol-1-yl]-6-morpholin-4-yl-1,3,5-triazin-2-yl]morpholine
ZSTK474; 475110-96-4; 4,4′-(6-(2-(Difluoromethyl)-1H-benzo[d]imidazol-1-yl)-1,3,5-triazine-2,4-diyl)dimorpholine; ZSTK-474; ZSTK 474; TCMDC-137004;
2-(2-Difluoromethylbenzimidazol-1-yl)-4,6-bis(morpholino)-1,3,5-triazine
2-(2-difluoromethylbenzimidazol-1-yl)-4,6-dimorpholino-1,3,5-triazine
Zenyaku Kogyo (Innovator)
phase2………Treatment of Solid Tumors Therapy
ZSTK474 is a cell permeable and reversible P13K inhibitor with an IC₅₀ at 6nm. It was identified as part of a screening library, selected for its ability to block tumor cell growth. ZSTK474 has shown strong antitumor activities against human cancer xenographs when administered orally to mice without a significant toxic effect.
Phosphatidylinositol 3-kinase (PI3K) has been implicated in a variety of diseases including cancer. A number of PI3K inhibitors have recently been developed for use in cancer therapy. ZSTK474 is a highly promising antitumor agent targeting PI3K. We previously reported that ZSTK474 showed potent inhibition against four class I PI3K isoforms but not against 140 protein kinases.
However, whether ZSTK474 inhibits DNA-dependent protein kinase (DNA-PK), which is structurally similar to PI3K, remains unknown. To investigate the inhibition of DNA-PK, we developed a…
View original 646 more words