New Drug Approvals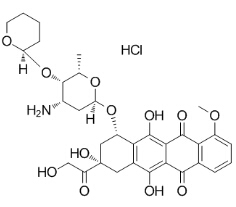 Pirarubicin Hydrochloride  
(7S,9S)-7-((2R,4S,5S,6S)-4-amino-6-methyl-5-((R)-tetrahydro-2H-pyran-2-yloxy)-tetrahydro-2H-pyran-2-yloxy)-6,9,11-trihydroxy-9-(2-hydroxyacetyl)-4-methoxy-7,8,9,10-tetrahydrotetracene-5,12-dione HCl
(CAS 95343-20-7)
THP Hydrochloride
(7S,9S)-7-((2R,4S,5S,6S)-4-amino-6-methyl-5-((R)-tetrahydro-2H-pyran-2-yloxy)-tetrahydro-2H-pyran-2-yloxy)-6,9,11-trihydroxy-9-(2-hydroxyacetyl)-4-methoxy-7,8,9,10-tetrahydrotetracene-5,12-dione HCl
MF C32H38ClNO12
MW 664.1
BASE 72496-41-4
Pirarubicin
or Pinorubicin
or Therarubicin
or (8S,10S)-10-(((2R,4S,5S,6S)-4-Amino-6-methyl-5-(((R)-tetrahydro-2H-pyran-2-yl)oxy)tetrahydro-2H-pyran-2-yl)oxy)-6,8,11-trihydroxy-8-(2-hydroxyacetyl)-1-methoxy-7,8,9,10-tetrahydrotetracene-5,12-dione
or Pirarubicin
Pirarubicin Hcl is an analogue of the anthracycline anti-neoplastic doxorubicin, which is an inhibitor of Topo II.
Target: Topoisomerase
Pirarubicin is an anthracycline drug. An analogue of the anthracycline antineoplastic antibiotic doxorubicin. Pirarubicin intercalates into DNA and interacts with topoisomerase II, thereby inhibiting DNA replication and repair and RNA and protein synthesis. This agent is less cardiotoxic than doxorubicin and exhibits activity against some doxorubicin-resistant cell lines.
Pirarubicin (THP-adriamycin or THP-doxorubicin) was found during a search of new anthracycline antibiotics among 4′-O-substituted compounds having less toxicities than other anthracycline anticancer drugs in 1979 by Umezawa et al. In its preclinical…
View original post 314 more words