New Drug Approvals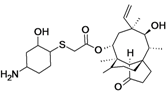 BC-3781
Topical pleuromutilin antibiotic agent
Gram-positive, including MRSA, PHASE 2 COMPLETED
Nabriva (Austria)
BC-3781
The pleuromutilin BC-3781 belongs to the first generation of pleuromutilins to combine excellent oral
bioavailability with substantial activity against Gram-positive pathogens and atypicals as well as some
Gram-negative pathogens. In particular, BC-3781 is highly active against multi-drug resistant (MDR)
pathogens including methicillin resistant Staphylococcus aureus (MRSA), MDR Streptococcus pneumonia
(i.e. macrolide and quinolone resistance), and vancomycin resistant Enterococcus faecium. It is
characterized by excellent in vivo activities (e.g. pneumonia model), outstanding PK/PD parameters,
allowing once a day dosing, and a novel mode of action. BC-3781 is being developed for both oral and IV
administration and is intended for the treatment of serious multi-drug resistant skin & skin structure
infections (CSSI) and moderate to severe pneumonia (CAP, HAP etc).
Pleuromutilins have been known since 1951, but only entered the market
 in 2007 with the approval of retapamulin for…
View original post 709 more words